Located in Fuengirola, Los Corchos is the perfect base for those looking to enjoy the beach and explore the most popular tourist attractions in the area.
The hostel opened in 2000 and was recently renovated to offer our guests a higher level of comfort and quality.
LOCATION
Located between Los Boliches and Fuengirola, in the best part of the promenade, 40 m from the beach and 500 m from the city centre. Therefore, guests can walk to the town centre and train and bus stations to visit Málaga, Marbella or any of the other nearby cities.
PERSONAL SERVICE
We like to treat our guests on a one-on-one basis, as each customer is unique, and so we adapt to each guest's needs.
FEEL AT HOME
We know that there's no place like home, but at Hostal Los Corchos we try, insofar as possible, to ensure that you are as comfortable as possible so that during your stay, you feel like you're at home.
HEARTFELT WORK
This is our approach to our work. Los Corchos is a family hostel and this can be seen in our service, we give it our all to make sure your stay in "our home" is the best.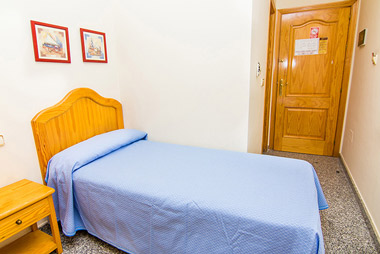 Single room
One single bed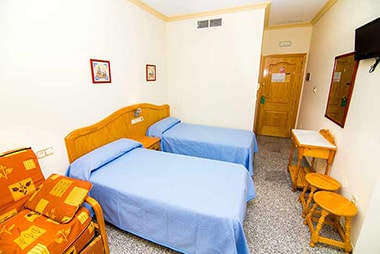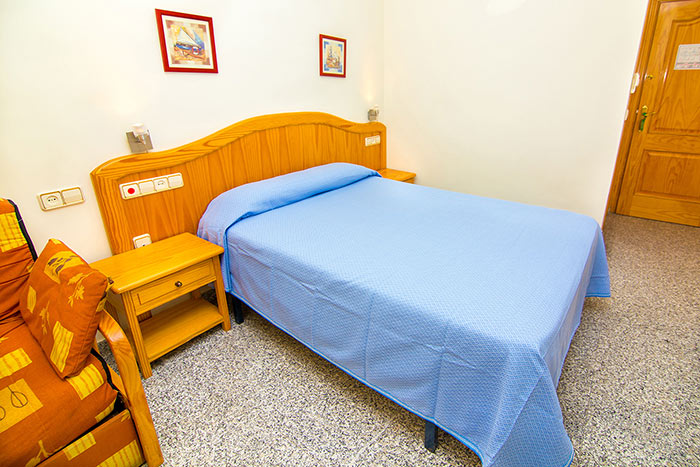 Habitación doble
Dos camas
BOOK NOW
Introduce the dates of your booking and we will get back to you with availability and prices.
Or if you'd prefer, why not give us a call?
price subject to availability and dates
"Perfect hostel"
After reading such good comments, I didn't think twice. It has an enviable location, the staff are very friendly, the rooms and cleanliness were just right. I fully recommend it. Incredible price. I would call it a hotel, as it provides all services. Don't think twice, you'll be surprised. It's a pleasure travelling like this.
"run by a family, excellent service…"
My family has been using this hostel for years, we recommend it to many of our friends when they come to the city. It is just one block from the beach and close to the city. The rooms are decorated simply and are impeccable. It is cosy and intimate, the staff are really friendly and know about all the tourist attractions. There is free parking in the car park and WIFI… it feels like you're at home, you can't beat the price, it is not expensive.
"Brilliant for short holidays"

As other people have said, the staff are friendly and helpful, you feel welcome as soon as you arrive. Good location, a short walk to Los Boliches (train station closed at the moment) and a ten-minute walk to Fuengirola, with loads of shops, bars and restaurants nearby. The rooms are really clean…
"Very friendly"

In July 2014, my boyfriend and I went back for ten days, which were the best days of the year, peaceful, close to the beach, a bar with great service and on the way back to the hostel, everything is close by, even a Mercadona.
The owner treats guests in a very friendly way, the employees are very nice and friendly, always really accommodating.
WOULD YOU LIKE TO GIVE US SOME FEEDBACK?
If you would like to share an opinion or suggestion with us, or even ask a question, we would love to hear from you and will get back to you as soon as possible.